Apex of the Decade 15 was the 15th official ranking for the Apex of the Decade, an Apex listing of the top 25 e-wrestlers to have competed in the e-federation, Lords of Pain Wrestling (LPW), formerly the Psychotic Wrestling Alliance (PWA), acknowledging the in and out of character success from those who paved the way during the promotion's first decade of existence.
The 17th ranking was announced on Christmas Day, December 25, 2009. Mass Chaos was the e-wrestler who claimed the 15th spot with 215 points.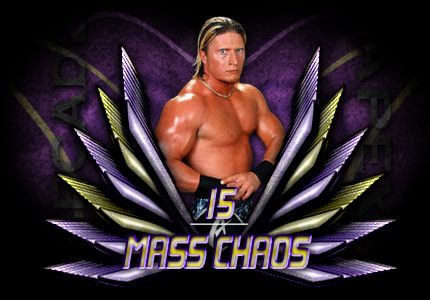 VITAL STATISTICS


Height and Weight: 5'11" 215 Pounds
Billed From:

Allen, Texas
Debut: 2003
Career Accomplishments: PWA United States Tag Team Championship (With Bloodrose), LPW Television Championship, LPW International Heavyweight Championship, LPW Most Improved Wrester of 2008
Career Record: 25 Wins, 25 Losses (On Record)
Highest Spot Achieved on APEX in Career: 8th (March 2008)
Latest Match: LPW Inferno 15.3 (Defeated by Styxx)
Score: 215 Points (No First Place Votes)


Patient History: History has not been kind to many wrestlers in LPW history. However, no one has been able to turn around such a cruel and heartbreaking start, such as 10 successive losses. No one, that is, until Mass Chaos arrived on the scene.


Chaos was first assigned to Schizophrenia, and was immediately targetted by "The Gathering" as their enforcer. After being bloodied and bruised week after week, he learnt of the farce behind the Gathering, and took a few weeks away from the company to heal his wounds and refresh his mind over the incident, but instead almost quit the sport all together. After being assured management saw potential in him, he returned, and immediately regained success, with a valliant loss to the United States Champion, The D, and then finally scoring his first win over Valleyboy.


During PWA's Eurpoean tour, Chaos approached Bloodrose, with the intention of being mentored by the former United States Tag Team Champion. Bloodrose took Chaos under his wing, and almost instantly, Chaos began finding regular success, putting on some of the finest matches with men like "Sick" Nick, The Rabbi, Red Dragon and Wevv Mang. These 6 men were given the monkier of the Schizo 6, given the quality of the wrestling they produced with each other. It was against Nick and Rabbi where Chaos would win his US Tag Titles with Bloodrose. However, in the Schizo 6 Gauntlet Match at Revelations, Bloodrose and Chaos would lose their titles back to Rabbi and Nick.


After Bloodrose abandoned Chaos on a Schizophrenai show, he was brutally beaten, forcing him to take some time to heal his injuries. He returned to find himself challenged to a match after interupting X's announcement of his Altered Reality 2 team. If Chaos could defeat Positively Reaper, he would be able to join Team Xtreme at AR2. Chaos succeeded in defeating reaper, and went on to AR2. However, Reaper would attack him after the match in the locker room at the big event, kindling a deep hatred between the two men, one which could only be settled in a "Buried Alive" Match. Shockingly, Chaos came back from the brink of defeat numerous times to bury Reaper alive, giving him the monkier of "The Man who Will Not Die".


After forming his own tag team with Edible, known as The Abandoned, Chaos was unexpectedly traded to the Pyromania brand, and joined forces with Showstoppa and BD Barlow to create "Murder Inc." While the team held massive potential, bickering between Showstoppa and Barlow would ultimately sow the seeds for the stable's premature destruction. Barlow would walk out on Chaos at the One Way Ticket Pre-Show, and attack Showstoppa in his match with Villiano 187, killing the team. Chaos decided this would be an appropriate time to take a leave of absence, using the time to heal, and get married.


Mass Chaos would return at Pyromania 9.3, making a pledge that after 5 long, hard and heartbreaking years, he would finally hold singles gold by the end of the year. Rekindling his relationship with Edible, the Abandoned initially attempted to chase down a Tag Title shot, but were defeated by the Madcore Wrestling Alliance in a triple threat match. Chaos returned his attention to his goal, and focused on the Television Championship. After Edible convinced Chaos to join the Misfits, Chaos found even more success, eventually going on to defeat Ken Ryans for the Television Championship at Inferno 11.1. He'd fulfilled his goal, and finally held singles gold.


Jealousy would soon kick in though, as Edible attacked Chaos. With the Misfits falling apart around him, with Edible's jealousy, and Trey Spruance's frustrations with Drew Michaels, Chaos defended the TV title against both men, and fellow Misfit T.J. Rage in a round robin Misfit Melee at Dead Reckoning. Chaos won all three matches that night, retaining his Championship, and setting the tone for what would be one of the best championship reigns in history.


Of the many who opposed Chaos, none were more dangerous than the mad man, Styxx, who dubbed himself the "Misfit Killer". Styxx even went as far as targetting Chaos's family, attacking his brother, prompting an I Quit Steel Cage Match between the pair at Redemption. After forcing Styxx to quit using his own noose, Chaos was finally starting to show his true potential. At Altered Realty Three, with a stipulation handicap, he defeated Insanity's Hardcore Champion Hatchet Ryda in a Hardcore Match, which caused many to dub him the greatest Television Champion of All Time.


Mass Chaos' title reign would come to an end at the Honor Roll super show, when Jude Maxwell won the scramble match which he defended his title in. Chaos' credentials however, allowed him to move on to bigger and better things, as the Boss gave Mass Chaos the opportunity to challenge White Falcon for the International Heavyweight Championship at the Take No Prisoners Pay Per View. After 6 years of hard work, blood, sweat and tears, Mass Chaos defeated Falcon, in what he calls his crowning achievement.


During his title reign, he would find victories hard to come by, with his long time rival, and now Number One Contender, Styxx, defeating him numerous times in Tag matches. He was forced to put his title on the line in a Mini Tournament at the Sacrament PPV, against Styxx, White Falcon and NPD. After defeating Styxx, he retained his title yet again later in the night against White Falcon, becoming the first man to successfully defend the International Heavyweight Championship twice in one night. Mass Chaos' reign would come to an end at Inferno 15.3 – Night of Champions, when Styxx finally broke his glass ceiling, and defeated Chaos for the title.


Mass Chaos' career is an inspirational one. After almost retiring twice in his career, he persevered and became one of the biggest stars ever to grace the squared circle. It's a true testament to the character of the man, and his willingness to keep going, no matter how hard things get. It's fitting that we see Mass Chaos on the Apex of the Decade, and the public have voted him to number 15 on the list. Congratulations, Mass Chaos.


External links
Edit



Apex of the Decade

Ad blocker interference detected!
Wikia is a free-to-use site that makes money from advertising. We have a modified experience for viewers using ad blockers

Wikia is not accessible if you've made further modifications. Remove the custom ad blocker rule(s) and the page will load as expected.