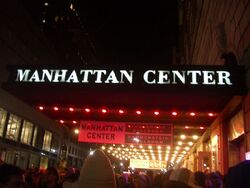 The Hammerstein Ballroom is a two-tiered ballroom located within the Manhattan Center Studios on 311 West 34th Street in Manhattan, New York. It is known for its elegant appearance and excellent acoustical design. The capacity of the ballroom is dependent on the configuration of the room; the ballroom seats 2,500 people for theatrical productions and musical performances, and several thousand for events held within a central ring. The two main balconies - which are unusually close to the ground and gently sloped - seat a total of 1,200. There are six shallow balconies which are normally used for celebrity guests. The floor slants down to the stage area to enable those in the back rows to see easily.
The Hammerstein Ballroom has seen multiple performances in professional wrestling. As a fictional setting for Lords of Pain Wrestling (LPW), Insanity GM Little Red Riding Hood scheduled a Hammerstein booking for Insanity LIVE from Manhattan on October 15, 2009. In the main event, she booked cYnical against Pope Fred in a "Little Red Says" match.
Ad blocker interference detected!
Wikia is a free-to-use site that makes money from advertising. We have a modified experience for viewers using ad blockers

Wikia is not accessible if you've made further modifications. Remove the custom ad blocker rule(s) and the page will load as expected.