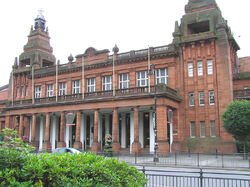 The Kelvin Hall in Glasgow, Scotland, is a mixed-use arts and sports venue that opened as an exhibition centre in 1927. It has been a music hall, indoor arena and barrage balloon factory, and is currently home to Glasgow's Museum of Transport and the Kelvin Hall International Sports Arena.
In a fictional setting, Kelvin Hall was a venue for the Insanity brand during its fifth season Body Count tour of Europe. Before the Body Count pay-per-view, Kelvin Hall hosted Insanity LIVE from Glasgow that saw Hatchet Ryda gain +19 Body Count points by winning the Royal Beanstalk match, thus qualifying for the DeathCube Match for a shot at the LPW World Heavyweight Championship, which he went on to win. In addition, the main event featured Eddie B. defeating the champion X in a non-title match, thus also qualifying for the DeathCube.
Ad blocker interference detected!
Wikia is a free-to-use site that makes money from advertising. We have a modified experience for viewers using ad blockers

Wikia is not accessible if you've made further modifications. Remove the custom ad blocker rule(s) and the page will load as expected.