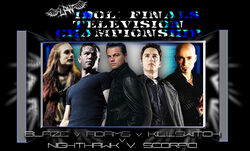 LPW Idol is an e-wrestling tournament that will decide the new LPW Television Championship after former champion Jude Maxwell was stripped of the title by D. Hammond Samuels after wining the LPW Western States Heritage Championship. The first round was held at Inferno 15.4 from Virginia Tech.
At All-Stars, towards the end of the Casket Match between Watchmen and Ash Strife, CAK had managed to incapacitate both Justus and Black Reaper, however as he opened the casket's lid and was picking both Watchmen from the ground, Boxcar Danny sat up from the coffin and attacked the behemoth. After a small scuffle, CAK managed to grab hold of Boxcar Danny's long dreads and pull off the unsuspecting wig. To CAK's horror and to the shock of everyone else in the arena, with the wig removed, Boxcar Danny was CAK older brother, Eric Scorpio. It was then revealed Scorpio would compete in LPW Idol.
The final for the tournament was held at Capital Punishment. St. Jayne Nighthawk won the match to become the new LPW Television Champion. The matches for Idol were as follows:
External links
Edit
Lords of Pain Wrestling
Ad blocker interference detected!
Wikia is a free-to-use site that makes money from advertising. We have a modified experience for viewers using ad blockers

Wikia is not accessible if you've made further modifications. Remove the custom ad blocker rule(s) and the page will load as expected.