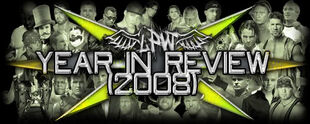 The LPW 2008 - A Year in Review was a special telecast presented by Lords of Pain Wrestling. The show reviewed eight matches from 2009 hosted by Insanity color commentators SoL and Robert Lillehammer. The show aired on December 31st, 2008, making it the last broadcast for the 2008 season for the federation.
During the show, 4 Achievement Awards winners were announced:
#
Match
Event
Stipulations
Notes
1
The Rik defeated Peter Saint (c) and RaTo
Dead Reckoning
LPW United States Championship Triple Threat match
The Rik pinned RaTo after the Slice to win the title
2
Eddie B. defeated White Falcon (c)
Inferno 13.1
LPW Cleansed Championship Ladder match
Eddie B. grabbed the title after hitting the Welcome to Minneapolis on Falcon
3
Mass Chaos (c) defeated Styxx
Redemption
LPW Television Championship Steel Cage "I Quit" match
Chaos forced Styxx to quit after hanging him by rope
4
cYnical defeated Krimson Mask (c) (with Little Red)
Dead Man's Hand
LPW World Heavyweight Championship Japanese Death match
cYnical answered the 10-count after he and Krimson Mask fell into a C4 package
5
MWA (Tromboner Man and RaTo) defeated the Dark Brotherhood (Eric Scorpio and Crazy Ash Killa)
Altered Reality IV
Title Unification Ladder match for the LPW World Tag Team Championship and LPW United States Tag Team Championship
RaTo grabbed the titles after Tromboner Man hit the Intonation Buster on CAK, which knocked Scorpio off his ladder. MWA become the first LPW Unified Tag Team Champions
6
SoL defeated S.O.R.
Grudge match
SoL pinned S.O.R. after a Jungle Kick
7
Drew Michaels (LPW International Heavyweight Champion) defeated cYnical (LPW World Heavyweight Champion)
Martinez Cup Champion vs. Champion match
Michaels pinned cYnical after reversing a Negative Outlook into the Wicked DDT, planting cYn's head in littered glass shards. Earlier in the match, cYnical pinned Michaels, but the decision was overruled by Inferno general manager Spectre, who cited Michaels foot being on the bottom rope
8
Krimson Mask (c) (with Little Red) defeated Eric Scorpio (with Crazy Ash Killa), cYnical (with Bobino), Bloodrose (with Scarlet), Stone (with Jaro), and N'itomniskittel (with Paper Bag Man)
EndGame
LPW World Heavyweight Championship Death Cube Match
Order of elimination:

Referee declared Stone unable to continue after he flew into the steel cage, which had been elecricuted by a live wire from CAK
Scarlet threw in Bloodrose's towel after N'itomniskittel hit Bloodrose with a top-rope 450 Firebird Special on a steel chair to his face
Bloodrose forced Paper Bag Man to throw in N'itomniskittel's towel
CAK threw in Scorpio's towel after Krimson Mask beat him repeatedly with a dislodged ringpost
Krimson Mask pinned cYnical after The End
External links
Edit
Lords of Pain Wrestling
Ad blocker interference detected!
Wikia is a free-to-use site that makes money from advertising. We have a modified experience for viewers using ad blockers

Wikia is not accessible if you've made further modifications. Remove the custom ad blocker rule(s) and the page will load as expected.