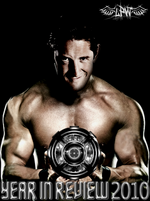 The LPW 2010 - A Year in Review was a direct-to-DVD telecast presented by Lords of Pain Wrestling. The show reviewed eight matches from 2010 hosted by Insanity color commentator SoL and Inferno play by play commentator The Rik.
The DVD was released on December 30th, 2010. This was the first Year in Review not to include LPW Achievement Awards and be televised live.
#
Match
Event
Stipulations
Notes
Disc 1
1
Andy Savana and Krimson Mask defated Hatchet Ryda and Styxx
All-Stars
Champions vs. Challengers Tag Team match
Mask pinned Styxx after hitting The End
2
cYnical defeated Hatchet Ryda
Insanity LIVE from San Juan
LPW World Heavyweight Championship match
Cynical pinned Hatchet
3
The Misfits (Drew Michaels and Mass Chaos) defeated Watchmen (Justus and Black Reaper)
Inferno 16.2
LPW Undisputed World Tag Team Championship match
The result of the match is unknown
4
Team Pyro (Killswitch and Haemoglobin (captains), Atlas Adams, Big B. Brown, and Ian Oberon) defeated Team Insanity (Blackwell and Son of Shockey (captains), MC Steel, Richard Michaels and Dick Dynamo)
Altered Reality V
Insanity vs. Pyromania 10-Man Elimination Tag Team match
Order of elimination:

Adams pinned Steel after hitting the Go to Sleep
Brown pinned Blackwell after hitting the Big B. Bomb
Oberon pinned Dynamo after hitting the EKO
SOS pinned Oberon after hitting the ESPN
Killswitch pinned Michaels after hitting the Switchbreaker
Brown pinned SOS after hitting the Big B. Bomb

Killswitch, Haemoglobin, Adams and Brown survivors

5
Team Savana (Andy Savana and Krimson Mask (captains), Joe Michaels, Jason Gravis and Nigel Vanderbilt) defeated Team Pyro (Son of Repoman and Jude Maxwell (captains), Bobino, Eddie B. and Monroe)
Insanity vs. Pyromania 10-Man Elimination Tag Team match
Order of elimination:

Mask pinned SOR after hitting The End
Mask pinned Monroe after hitting The End
Bobuni pinned Savana after hitting the Darwinism
Maxwell pinned Gravis ater hitting the Helter Skelter
Eddie B. pinned Vanderbilt after hitting the Lowered Expectations
Eddie B. pinned Michaels after hitting the Welcome to Abbey Road Motherfucker with Maxwell
Mask pinned Bobino after hitting the Bloodrush DDT
Mask pinned Maxwell after hitting the Unhappily Ever After
Mask forced Eddie B. unconcious with the Bloodklot

Krimson Mask was the sole survivor

Disc 2
6
cYnical (LPW World Heavyweight Champion) defeated Styxx (LPW International Heavyweight Champion)
Altered Reality V
Martinez Cup Champion vs. Champion match with Sheepster as the Guest Referee
cYnical pinned Styxx after hitting the Negative Outlook
7
Ash Strife defeated Phantom Lord, Mass Chaos, Jude Maxwell and Big B. Brown
Homecoming
5-Man LPW Canadian Heavyweight Championship Battle Royal
Order of elimination:

Big B. Brown pinned Phantom Lord after hitting the Big B. Brown Bomb
Brown pinned Mass Chaos after hitting a Belly to Back Suplex from the Top Rope
Jude Maxwell pinned Big B. Brown after hitting a Spinebuster/Flipping Neckbreaker combination off the top rope
Strife pinned Maxwell after hitting the Strife Spike

8
Ken Ryans defeated X
Ladder Match for Mystery Contract
Ryans grabbed the briefcase with the contract after hitting a Death Row DDT on the ladder. After the match, the contract was revealed to be a contract saying that the winner was better than the loser. X originally signed the contract "Ben Starr", but Ryans hit X with the briefcase, and forced him to sign it with his own blood.
9
Jude Maxwell defeated cYnical
Insanity LIVE from the Norfolk Scope
Singles match
Maxwell pinned cYnical after reversing a diving crossbody into a roll-up
10
Ken Ryans defeated Ultramarcus
Singles match
Pyromania 17.1
Ryans pinned Marcus after hitting the Death Row DDT
External links
Edit
Lords of Pain Wrestling
Ad blocker interference detected!
Wikia is a free-to-use site that makes money from advertising. We have a modified experience for viewers using ad blockers

Wikia is not accessible if you've made further modifications. Remove the custom ad blocker rule(s) and the page will load as expected.