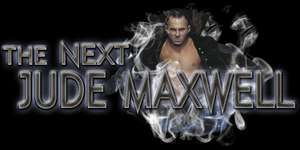 The Next Jude Maxwell (henceforth known as TNJM) was a Tough Enough-like contest that was run by Jude Maxwell on the Inferno brand. It was opened to any Inferno undercard-lower midcard wrestlers. The prize will be revealed in the future.
The participants were Bobino, Atlas Adams, Killswitch, Ian Oberon, Cripsy, and mystery entrant Black Ada. The contest will also have a mystery entrant. Originally there were eight, but mystery entrant Patsy Sharpe had to back out and The Green Bastard didn't show up for the tapings.
The entire competition ceremonially began at Inferno 16.1, but the challenges will start at Inferno 16.2, and the final round was to be held at LPW Homecoming, after Altered Reality V, but the contest was forgoten due to lack of paticipation. The challenges were to consist of actual out of character challenges that Jude would set every round, from trash-talking to promo, and would not interder with normal programming.
Participants would be scored and ranked in a simplified point system, to be determined by a panel of three judges that included Maxwell, Eric Scorpio, and the Inferno head writer Drew Michaels.
The First Challenge
Edit
For the first challenge, Jude only asked that their promo be in three parts, and to have some sort of creative gimmick, i.e. Beatles songs. Also, Jude stated that:
Those who will win their matches will get bonus points.
The participant who earns the highest APS (average promo score) out of the 6 of you will also earn bonus points.
Participants won't be disqualified if they don't do it in three parts or have a gimmick, but they shouldn't expect to score high.
There's no problem about how late the promo the posted, as long as they get it up.
If a participant no-shows, they will be eliminated, no questions asked.
If they need it, a participant may ask for a one-time "consultation", where they will tell Jude what they have so far and will try to help out as much as he can, but only once and before you post your promo. Once a participant post their promo, they can't ask for help.
External links
Edit
Lords of Pain Wrestling
Ad blocker interference detected!
Wikia is a free-to-use site that makes money from advertising. We have a modified experience for viewers using ad blockers

Wikia is not accessible if you've made further modifications. Remove the custom ad blocker rule(s) and the page will load as expected.