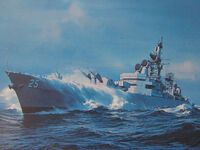 The USS Bainbridge (DDG-96) is an Arleigh Burke-class guided missile destroyer in the United States Navy. She is the fifth ship to carry that name, and the 46th destroyer of a planned 62-ship class. Bainbridge is named in honor of Commodore William Bainbridge, who as commander of the frigate USS Constitution distinguished himself in the War of 1812 when he and his crew captured HMS Java, a 38-gun fifth rate frigate of the Royal Navy.
Since her commissioning in 2005, Bainbridge has been active in the Mediterranean Sea, but most of the attention she has garnered has been as a result of the failed hijacking attempt of the U.S.-flagged freighter MV Maersk Alabama by Somali pirates in April 2009, which ended with the release of the vessel's Master, Captain Richard Phillips, on April 12, 2009. After crewmen of the captured cargo vessel managed to retake the ship, the pirates retreated, taking the ship's Master hostage in a lifeboat. Bainbridge and Halyburton shadowed the pirates, and with FBI assistance attempted negotiations for the safe return of the captive captain until U.S. Navy SEAL snipers resolved the situation with deadly force.
In a fictional setting, the ship was the site for Insanity LIVE from the USS Bainbridge off the coast of Lisbon, Portugual on June 19, 2009. The show opened with several Insanity superstars singing "I'm On a Boat" by The Lonely Island. It was the third setting for superstars to add to their Body Count for a chance to challenge for the LPW World Heavyweight Championship in a DeathCube Match at the self-entitled pay-per-view. In the main event, Eddie B. defeated the current champion X in a non-title match. After the bout, X threw Eddie off the ship to the ocean below.
Out of character, the handler behind Ash Strife served aboard the ship.
Ad blocker interference detected!
Wikia is a free-to-use site that makes money from advertising. We have a modified experience for viewers using ad blockers

Wikia is not accessible if you've made further modifications. Remove the custom ad blocker rule(s) and the page will load as expected.